World
Russia-Ukraine war live updates: Biden could announce major release of oil reserves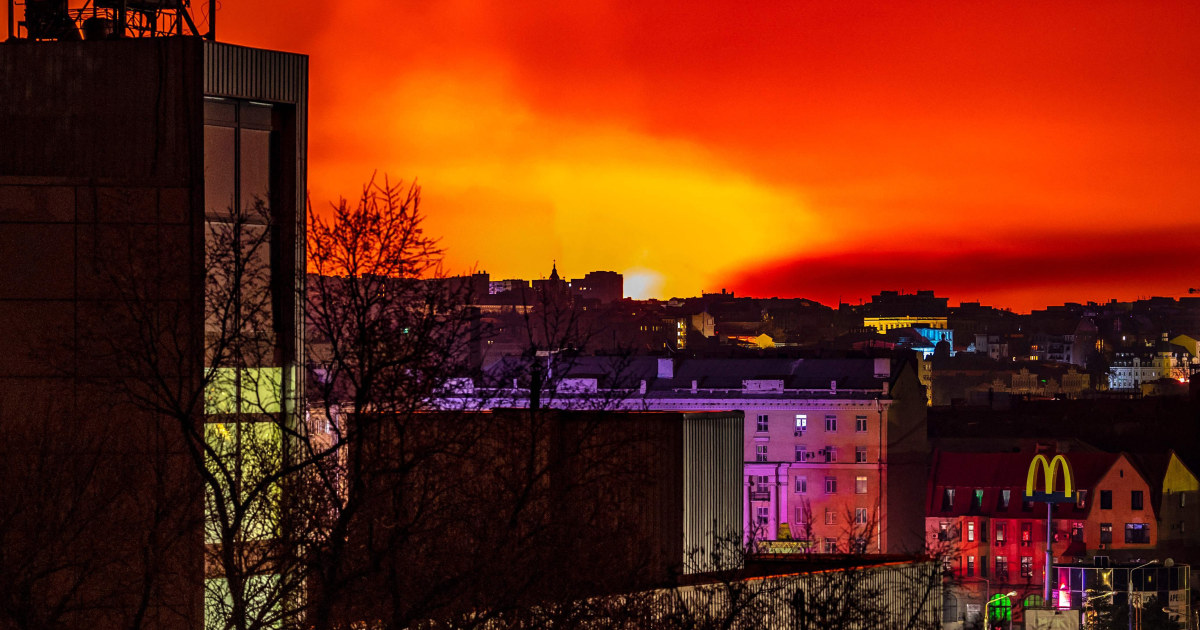 Zelenskyy appeals for more weapons in address to Dutch parliament
Ukrainian President Volodymyr Zelenskyy has asked the European Union for more weapons in a video conference address to the Dutch parliament, warning that war could spread across Europe if Russian forces were not stopped. 
"Ukraine is just the beginning. If you don't, if we don't stop Russia, and if we don't stop it urgently," he said as the conflict dragged into its 36th day. 
Zelenskyy thanked the Netherlands for its support during the conflict but stressed his country needed more. "We need stingers. Air defense weapons, they will allow us to stand strong. We also need weapons which can secure our skies or unblock our cities where Russia has created artificial famine. We need weapons that will allow us to drive the occupiers out of our land," he said. 
The president also appealed for stronger sanctions against Russia. 
"Together with other countries in the EU you must do everything so that Russia will have no resources to continue this war," he urged the parliamentarians. 
Rescuers evacuate an elderly man as Russia's attack on Ukraine continued in the town of Irpin, outside Kyiv on Wednesday.  
Kharkiv authorities accuse Russia of not allowing humanitarian corridors
Russia is not allowing for humanitarian corridors in Kharkiv, regional governor Oleh Synegubov said on Thursday. 
"We are working every day to open green corridors. But so far Russia is not giving us such an opportunity," Synegubov said in a statement on the administration's official Telegram channel. 
"As we can see, the actions of the Russian occupiers are difficult to predict, they are completely chaotic," he continued, saying the Ukrainian armed forces were holding their positions to fend off Russian forces.
Russia and Ukraine earlier this month had agreed on the opening of humanitarian corridors to allow civilians to escape the worst of the fighting.
The city suffered dozens of artillery, mortar and tank attacks on Wednesday evening, Synegubov said, as well as missile strikes. A gas pipeline was also damaged, causing a strong fire. 
Australia to impose tariff increases on imports from Russia, Belarus
The Australian government is imposing an additional 35% increase in imports from Russia and Belarus, its foreign and trade ministry announced Thursday.
Foreign Affairs minister Marise Payne said in a statement that the government will draft a "formal notification withdrawing entitlement to the Most-Favoured-Nation (MFN) tariff treatment" to apply the additional fee on imports from Russia and Belarus.
Payne said this move attempts to further condemn Russia's actions and is aligned "with other like-minded members of the World Trade Organization."
The ministry's statement came as Ukrainian President Volodymyr Zelenskyy delivered a virtual address to the Australian parliament Thursday.
Russian shelling sets fire to a school and an oil depot in Luhansk, officials say
Russian shelling over the past two days set fire to a school, an oil depot, and dozens of houses in Ukraine's eastern Luhansk region, the regional state administration has said. The shelling killed at least two people and injured two children, it said.
NBC News was not able to verify the death toll. 
"Several injured and dead residents could not be taken from the streets for hours," Serhiy Haidai, governor of Luhansk region, said in a statement shared on the administration's Telegram page. "The final number of victims is still being determined."
The regional state administration said the Ukrainian army had rebuffed several Russian attacks in the Luhansk and Donetsk regions on Wednesday.
Evacuation corridor from Mariupol agreed, Ukraine says
Russia has agreed to open a humanitarian corridor for evacuation from the besieged cities Mariupol and Melitopol to Zaporizhzhia, Ukraine's Deputy Prime Minister Iryna Vereshchuk has said, citing confirmation from the Red Cross.
Vereshchuk said officials had "received a message from the International Committee of the Red Cross about Russia's confirmation of its readiness to open a humanitarian corridor from Mariupol with transit through Berdyansk" in a televised statement. NBC News was not able to independently confirm the agreement. 
Along with the planned evacuation routes, humanitarian aid will also be delivered to those in Melitopol, Vereshchuk said.
Corridors have further been approved for evacuees fleeing the city of Enerhodar, home to the largest nuclear power plant in Europe that caught fire earlier in March, Vereshchuk added.
At least 45 buses have already been sent for the planned evacuation from Mariupol, while the approved link from Enerhodar to Zaporizhzhia will have to be undertaken by one's own transportation, the deputy prime minister said.
Zelenskyy addresses Australian parliament
Ukrainian President Volodymyr Zelenskyy addressed Australia's parliament via video link Thursday, warning that global security could be at risk if Russia does not end its invasion of Ukraine. 
He specifically warned about the threat of the use of nuclear weapons and the risk of radioactive contamination of nuclear weapons are used.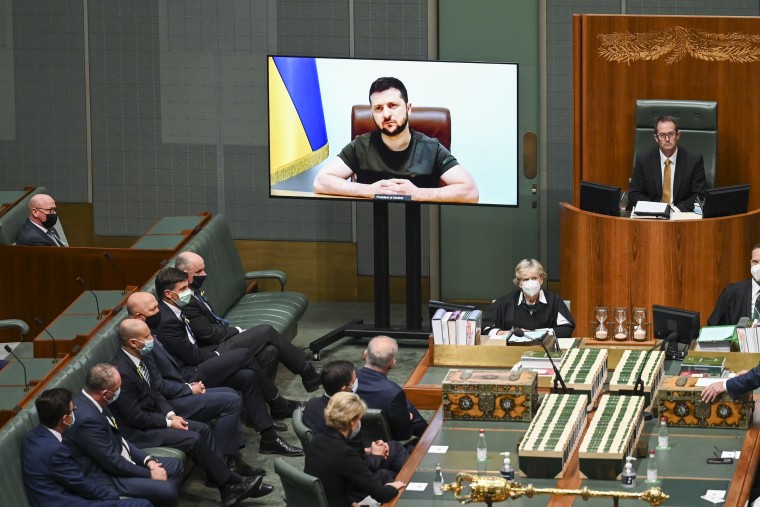 'Significant' strikes around Chernihiv despite Russia's vow to reduce presence, U.K. says
Despite a vow to reduce military activity around Ukraine's capital and Chernihiv, Russia has continued significant shelling and missile strikes around the latter northern city, Britain's defense ministry has said.
Meanwhile, Russian forces continue to hold positions around Kyiv, it said in its latest intelligence update Thursday.
"Russian forces continue to hold positions to the east and west of Kyiv despite the withdrawal of a limited number of units," it said.
Meanwhile, heavy fighting continued in the besieged city of Mariupol with Ukrainian forces controlling the city's center, it said.