Travel
SCAT Airlines Takes 737 MAX First Ordered By Belarus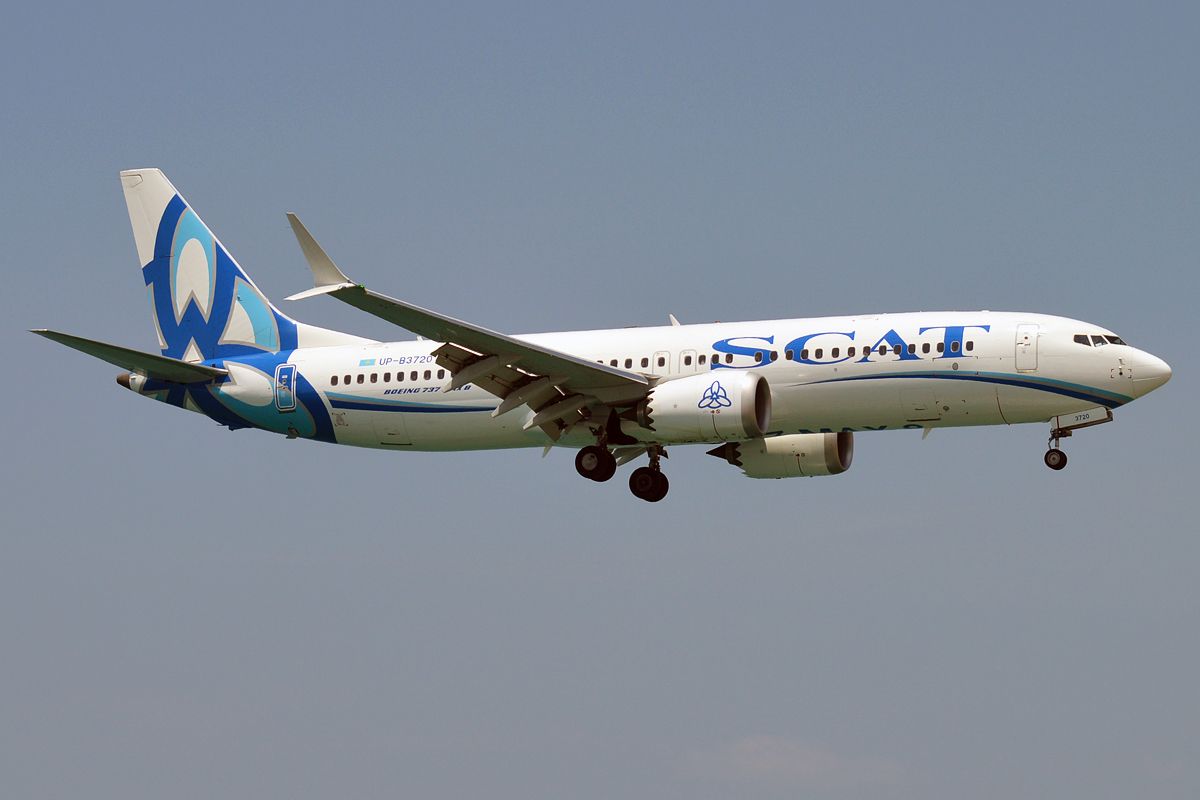 On August 4th, a Boeing 737 MAX took off from Boeing's facilities in Everett destined for SCAT Airlines. The "new" aircraft, which recently turned three-years-old, was first ordered by Belarusian carrier Belavia. However, due to more recent sanctions imposed on the Belarusian carrier, the airframe was redirected to fly with Kazakhstan's SCAT.
Delivery flight details
The Boeing 737 MAX 8 registered UP-B3737 took off from Paine Field in Washington at 07:29 local time on August 4th. With its final destination located on the other side of the world in Central Asia, the aircraft had to make a refueling stop, which in this case was at Keflavik International Airport in Iceland. With this first leg lasting six hours and 43 minutes, the 737 landed at KEF at 21:12 local time.
Wasting no time in Iceland, the aircraft took off at 23:32 for its second leg. This overnight flight would touch down roughly eight and a half hours later in Tashkent, Uzbekistan, at 13:05, August 5th. This second stop is an interesting one, considering the fact that SCAT is a Kazakh carrier based in Shymkent. Indeed, the airports of Shymkent (Kazakhstan) and Tashkent (Uzbekistan), while separated by an international border, are located just 77 miles (123km) away from each other.
Aircraft details
Initially destined to be registered with Belavia as EW-529PA, the aircraft has Boeing MSN 43332 and line number 7675. Data from ch-aviation.com indicates that the jet was actually ordered by Air Lease Corporation and had its first flight on August 7th, 2019.
AIB Family Flights data indicates that this airframe had a total of seven flights before delivery, which totaled seven and a half hours. The first three test flights and a ferry flight into storage occurred in August 2019 while a fifth flight out of storage took place in August 2021. The jet's 6th and 7th flights then took place in July 2022 in advance of the August delivery flight.
The aircraft made a single stop in Iceland. Photo: GCMap.com
No more new jets to Belavia
Russian and Iranian carriers aren't the only ones unable to take aircraft from Boeing. Belorussian airline Belavia was added to the list in June. As we reported at the time, United States had accused Belavia of providing flight services for passengers and cargo on US-origin aircraft in violation of US export controls. As a result, the US Bureau of Industry and Security issued an order temporarily denying all export privileges for the airline.
Prior to the sanctions, Belavia had accepted a single Boeing 737 MAX 8, with delivery taking place in April 2021.
The SCAT Airlines fleet
If this is the first time you're hearing about SCAT, you'd be forgiven (even if its name is fairly memorable). The Kazakh carrier has a small fleet of just 27 aircraft. This consists of Boeing 737s, 757s, and 767s, as well as the Bombardier CRJ-200.
While the airline's fleet now has an average age of 21 years, its handful of relatively new 737 MAX aircraft are mainly responsible for skewing the average. SCAT now has two MAX 8s and a single MAX 9 in its fleet.
Have you ever flown with this airline before? Share your experiences by leaving a comment!
Source link