Travel
JetBlue Forced To 'Over Hire' To Meet Staffing Demands Amid Widespread Exodus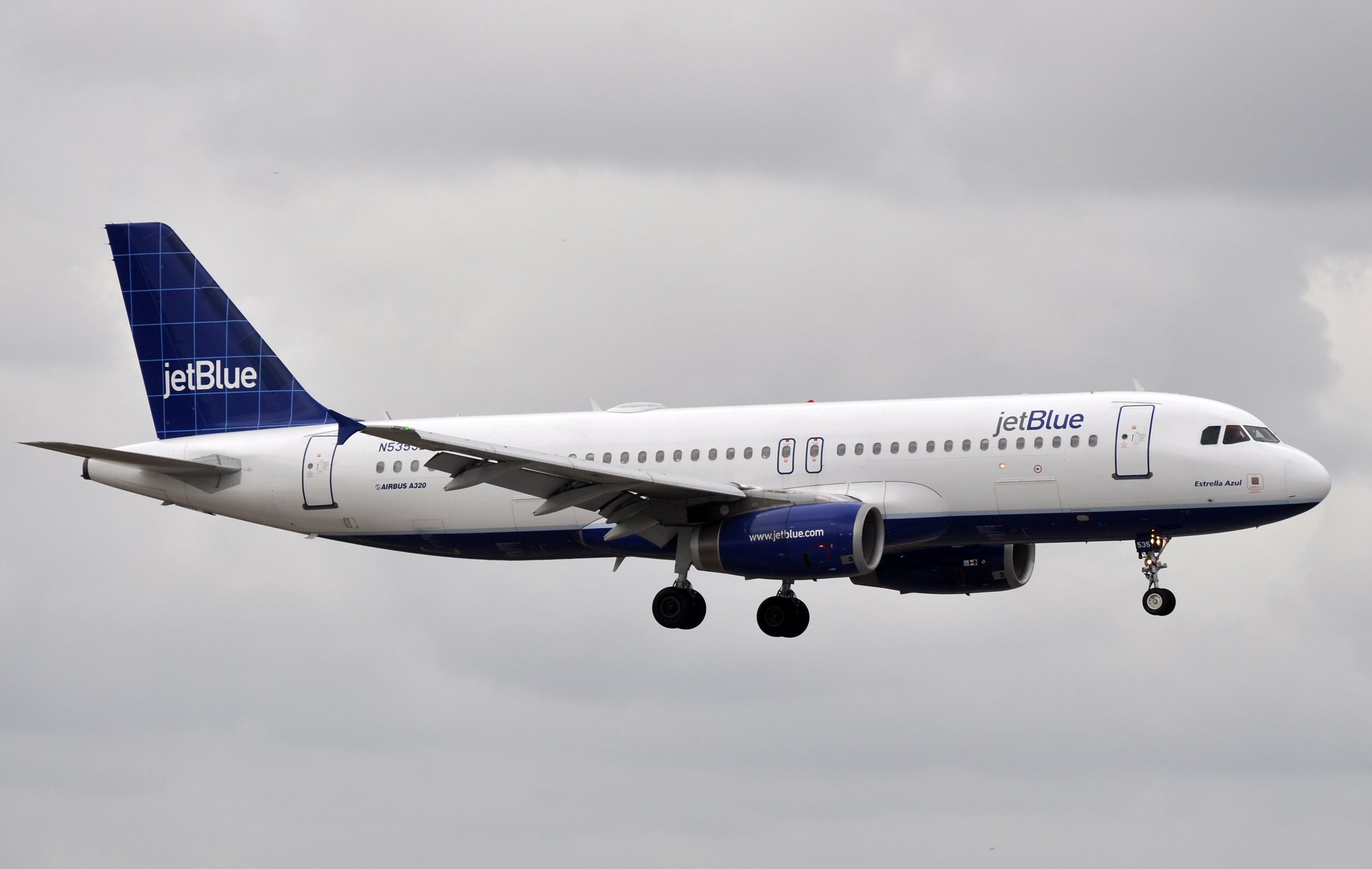 IATA/ICAO Code:

B6/JBA

Hub(s):

Boston Logan International Airport, Los Angeles International Airport, New York JFK Airport, Orlando International Airport

Year Founded:

2000

CEO:

Robin Hayes

Country:

United States
JetBlue CEO Robin Hayes recently spoke to the British Broadcasting Corporation (BBC) when his JetBlue airline started Boston-London flights – yes, the same JetBlue working to acquire Spirit Airlines. During that interview, Hayes said his JetBlue was actively working to "over-hire" a number beyond basic requirements due to COVID-19 impacting his workforce and subsequent lack of retention of trained professionals.
JetBlue CEO believes in over-hiring
Hayes, in the BBC interview, expounded his views on the American airline hiring crisis where he said;
I now need to over-hire to keep the number I need. With Covid, we lost a lot of experienced people.
Hayes said that post-COVID environment turnover would make it such that, by the end of 2022, half of the JetBlue workforce would have been with the airline for less than two years. Attrition from JetBlue is remarkably high in the eyes of Hayes and a problem he needs to solve.
Cancellations help lead to the rationale for over-hiring
A JetBlue Airbus A320 at the Buffalo International Airport gate.
Photo: Michael Gray
via Flickr
This is the same JetBlue that felt it had to give out bonuses for not calling in sick last spring due to high levels of shift cancelations from crew. Such an action concerned a public health officer, Dr. Allison Berry, MD, who said, in general, responding to a Simple Flying story,
"I think giving out bonuses for not using sick days is not a good idea because it encourages people to come to work sick, which is the opposite of what we want to see right now."
JetBlue has a severe staffing problem to meet the renewed traffic and the legal requirements for crewed flights. Specific Federal Aviation Administration (FAA) requirements for crewing a commercial flight are in place to maintain safety and smooth operations. The FAA requires 3-4 flight attendants per commercial flight, plus two certified pilots to fly the aircraft.
Without the legally required crewing, JetBlue has to cancel many flights. At the worst of the spring 2022 cancellations, JetBlue according to FlightAware on Sunday, April 3, had 33% of its flights canceled and another 35% delayed. For JetBlue, this was a low point the airline had to recover from. It has subsequently had to pull back scheduled flights for Summer 2022.
Skills of airline employees
This workforce situation, Hayes admits, poses problems for airline service quality as new hires…
…don't have the same experience as someone who was doing that job for 10 or 15 years, so it's going to take longer for them to learn the skills.
As to skills, for instance, one can read Patricia Green's explainer on what flight attendants do and a subsequent story on the skills that cabin crew attain. Green has since gone on to continue writing a substantial series of stories about the exemplary work and life of flight attendants. Aviation work requires education and experience to acquire and retain many personal and technical skills. If an airline cannot keep those employees, there will be trouble.
A Wall Street Journal (WSJ) article regarding JetBlue's hiring practices was from when the airline prioritized hiring retired first responders – police, firefighters, and paramedics. The former first responders wanted to continue to help their fellow humans with their de-escalation and emergency response skills while avoiding the stress and dangers of their previous job. The former first responders appreciated this approach, as Laura Romer, a retired NYPD detective and hostage negotiation team member, said,
"I like that I get off the plane and the job is finished. The beeper doesn't go off at 1 or 2 a.m. with someone saying, 'We got your guy."'
Of course, this was before COVID-19 became a threat to gracefully aging souls wanting to work in the aviation industry.
JetBlue and Spirit crewing
FORT LAUDERDALE, FLORIDA – MAY 16: A JetBlue Airlines plane takes off near Spirit Airlines planes at the Fort Lauderdale-Hollywood International Airport on May 16, 2022 in Fort Lauderdale, Florida.

Photo: Joe Raedle/Getty Images
Of course, no substantive conversation about JetBlue can be had in the summer of 2022 without discussing JetBlue's efforts to acquire Spirit Airlines. According to the lowfaresgreatservice.com promotional microsite,
A combined JetBlue-Spirit will be a larger, financially stronger, and more geographically diverse company, providing job growth and opportunities for Crewmembers and Team Members. The combined airline will be based in New York City and have a significant and growing presence in South Florida. It will have 34,000 Crewmembers with plans to hire more as the airline grows. … We look forward to welcoming Spirit's Team Members to JetBlue after closing.
JetBlue also intends to transition Spirit's Fort Lauderdale headquarters into a JetBlue support center. Furthermore, until the acquisition occurs, the airlines will retain their current union representation with little discussion about new collective bargaining agreements. Nonetheless, according to the microsite, the "combined team of 34,000 crewmembers" will still not be big enough to meet projected demands for crewing scheduled flights.
JetBlue is hiring today
Today, JetBlue is passionately hiring to fill many positions as possible. The airline has also committed to keeping all Spirit employees onboard if and when JetBlue acquires Spirit and also to employ 5,000 residents based in New York City.
As such, according to Hayes in the BBC interview, training capacity has been increased. The airline is hoping to be steadier as the summer fades and the US winter holiday season is starting to near. JetBlue has already had to pull down 37 routes for – according to an airline statement – a more "resilient" network. By coincidence or otherwise, some JetBlue routes removed from the schedules happen to be served by Spirit.
What are your thoughts on JetBlue's hiring and retention problems? Let us know with civility in the comments.
Source link