Science
Coronavirus News Roundup, December 12-December 18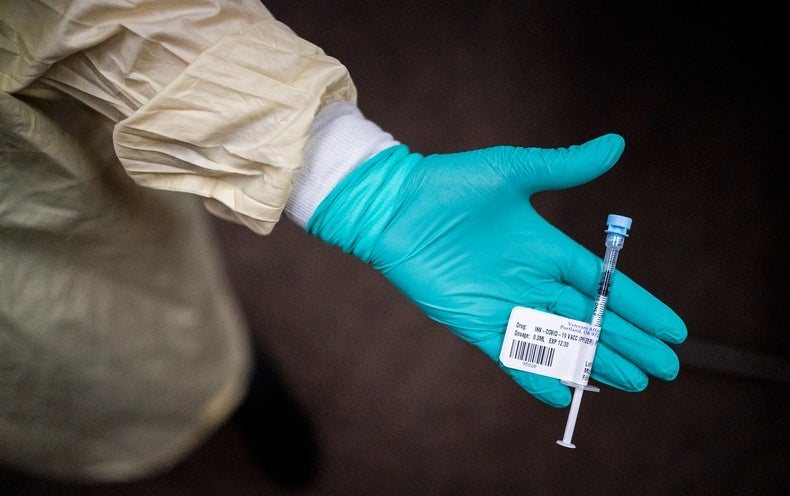 The items below are highlights from the free newsletter, "Smart, useful, science stuff about COVID-19." To receive newsletter issues daily in your inbox, sign up here.
A calculator recently published at The New York Times estimates your "place in line" for a SARS-CoV-2 vaccine among the full U.S. population. It spits out a result based on your age, county of residence, occupation, and underlying health conditions. The calculator draws on vaccine priority recommendations issued by an advisory committee to the U.S. Centers for Disease Control and by the National Academies of Sciences, Engineering and Medicine, according to a story about it by Stuart A. Thompson (illustrations by Jorge Colombo). The calculator puts 268.7 million people ahead of me in line. To help readers grasp the logistical complexity of the vaccine rollout, the story lists the supplies required for every 100 doses: 105 needles and syringes, 210 alcohol pads, 4 surgical masks, 2 face shields, and "100 vaccine report cards to track patients' vaccine histories." In English; In Spanish.
The New York Times has published a "Vaccine Distribution Tracker," which illustrates the number of Pfizer/BioNTech vaccine doses currently allocated to each U.S. state (12/16/20). Allocations were made in proportion to the size of each state's population, for the most part, the piece states. This "first wave of shipments will vaccine less than 1 percent of the nation's population and will cover only a fraction of the 21 million health care workers and 3 million long-term care facility residents who are up first," write Danielle Ivory, Jasmine C. Lee, Amy Schoenfeld Walker, and Mitch Smith. Approval of a second SARS-CoV-2 vaccine, Moderna's genetic vaccine, is expected by week's end, according to various reports. "Some states have begun to publish data on the Pfizer doses they have received and administered," the story states, "but there is not yet a consistent method for them to publicly report how many doses they have received and administered."
An interactive piece at Vox describes the current SARS-CoV-2 vaccine distribution situation in the U.S. as scarce. Some 6% of the U.S. population could be vaccinated by the end of this year, according to the piece by Youyou Zhou and Julia Belluz (12/15/20). "Hundreds of millions of people in the U.S. are simply going to have to wait — probably several months — to get a vaccine," the story states. One graphic in the piece illustrates the state-by-state percentage of health care workers and long-term care facility residents who will be vaccinated with the first shipment of doses from Pfizer/BioNTech.
A rapid at-home test for SARS-CoV-2 received emergency-use approval from the U.S. Food and Drug Administration on 12/15/20, reports Katherine J. Wu at The New York Times (12/17/20). The test, cleared for people as young as 2 years old, detects pieces of the virus that provoke an immune response (antigens). The manufacturer, Ellume, plans to "deliver about 20 million home coronavirus tests to the United States within the first half of 2021," Wu writes. The test is most accurate in people who have symptoms of COVID-19, the story states, but it still detects 90 percent of asymptomatic infections that would be detected using the standard PCR test, the story states. It is set to be sold over-the-counter for about $30 or less, the story states.
COVID-19 "is the driving force behind" excess deaths among young adults ages 25 to 44 in the U.S. between March and July this year, according to a 12/16/20 essay in The New York Times about the authors' study published the same day in the Journal of the American Medical Association. "Young adults are dying at historic rates," with nearly 12,000 more adults than expected in this group during the five-month period, write Dr. Jeremy Samuel Faust of Brigham and Women's Hospital, Dr. Harlan M. Krumholz of Yale, and Dr. Rochelle P. Walensky of Massachusetts General Hospital (Walensky is also President-elect Biden's nominee for director of the U.S. Centers for Disease Control). The excess deaths in this age group primarily occur among Black and Hispanic people, the authors write. "What we believed before about the relative harmlessness of COVID-19 among younger adults has simply not been borne out by emerging data," the essay states.
For a list of authoritative answers to common questions on SARS-CoV-2 vaccines, see Tara Haelle's 12/13/20 piece for Medium's Elemental. Topics addressed include vaccines likely to file soon for approval from the U.S. Food and Drug Administration, whether one can resume their Before Times lifestyle after they are vaccinated, the vaccine approval process, why this vaccine was developed so quickly, vaccine side effects (actually, these are routine reactions), that whole deal with the two people in the UK who had serious allergic reactions after receiving the vaccine, what the vaccines are actually effective against, the science behind the vaccines, and how you might be notified when it's your turn to get vaccinated.
Enter your zip code about a quarter of the way down this page to look up hospital and ICU-bed capacity data in your area as of 12/7/20 (by Lauren Leathergy, John Keefe, Lucy Tompkins, Charlie Smart, and Matthew Conlen at The New York Times, 12/9/20).
You might enjoy," Your monthly horoscope," by Jena Friedman for The New Yorker (12/14/20).
Source link