Entertainment
Blake Shelton Breaks Silence On New Song 'Minimum Wage' After Fans Say Lyrics Are 'Tone Deaf'
Blake Shelton is totally shrugging off the haters of his new song 'Minimum Wage,' praising his fans who have his back, along with several other top singers who are supporting him.
Country singer-songwriter Ronnie Dunn — as well as many of Blake Shelton's fans — are jumping to The Voice coach's defense after some people called his new song "Minimum Wage" "tone deaf," in light of so many people being out of work while the 44-year-old is worth millions. Blake personally thanked Ronnie — who is also half of the duo Brooks and Dunn — and apparently got a supportive DM from former Van Halen frontman Sammy Hagar as well.
"When your fans, @RonnieDunn and @sammyhagar have your back it's gonna be a good year. Bring it on 2021," Blake tweeted on Jan. 4. Ronnie wrote a lengthy Twitter and Instagram post defending Blake and explaining how most country music stars struggle for years before making a living.
When your fans, @RonnieDunn and @sammyhagar have your back it's gonna be a good year. Bring it on 2021.

— Blake Shelton (@blakeshelton) January 5, 2021
Ronnie wrote about the controversy, "The 'beef' is yet another of those misguided social issue (cultural scams) that are concocted to further divide this country." He then continued, "Now, they want to attack country singers for being successful. I slept on a mattress on the floor in a musician friend's spare bedroom and played BEER JOINTS / DIVE BARS for years before I ever made a $100. Most country singers pay dues and go through things to become successful that no sane human being would."
"I grew up poor. My father was a truck driver, avid country music fan and oilfield worker all his life. My mother worked a 'minimum wage' job as a small town bank teller to help support a family with four kids. The entire world wants to hitch a free ride on the American Dream. Those that don't want to diminish or destroy it. Read the full lyrics to Blake's song. Hell, I wish I'd written it," the 67-year-old added.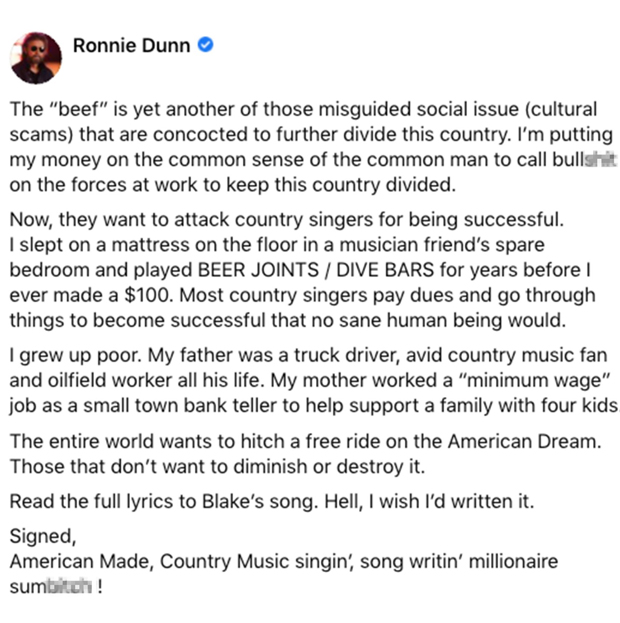 Blake initially performed the song on NBC's New Year's Eve special on Dec. 31. It included the lines, "Girl, your love can make a man feel rich on minimum wage," as well as "You can make a one bed room apartment feel like a house up on the hill." After watching it, user @cecemado tweeted, "blake shelton singing 'your love could make a man feel rich on minimum wage' just cements the fact that rich people have absolutely no f**king clue," while @KYLE0REN asked, "Does anyone else find Blake Shelton's 'Minimum Wage' song to be incredibly tone deaf to our country's current state?"
@mrsjulieholt was more blunt, tweeting, "A mega millionaire romanticizing minimum wage is peak 2020. Blake Shelton can go f**k himself." In 2019 alone, Forbes magazine reported that Blake raked in $32 million, making him the 4th highest-paid country music celebrity of the year, while in the first six months of 2020 the publication reported Blake made $43.5 million.
Blake's fans loved the song and know how hard Blake worked to get to where he is. User @blakesgwen tweeted, "Wish the general public could see you how we see you as a true genuine good person love u blake," while @gxshelton told him, "Lots of love to you Blake! Real fans know your heart and how much you care and give to others. Hope you and your family are doing well." Fan @LiesbergHelen added, "It's an excellent song, and you're a wonderful artist. Your music is one of the pleasures getting us through the turmoil of the pandemic. Thank you (and Gwen) for all you do and don't let misguided individuals change you." Blake's fans really do have his back, and many asked him to release "Minimum Wage" as a new single. With his tweet thanking fans for their support, it looks like that's probably going to happen.